Bikebiz Awards Winner 2013 - Star Store!

Shop with confidence.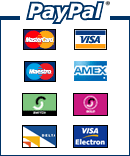 PayPal available for orders up to £50.00
The product you have requested is no longer available within our site.

It has been discontinued.

Search Engines sometimes hold records for products which have been deleted from the site.
Whilst we apologise for any inconvenience caused, unfortunately, there is little we can do to prevent these situations.

Please browse our current range from below.
**PLEASE NOTE - THESE OPTIONS ARE NOT RECOMMENDED FOR NON-BROADBAND USERS**
EVERY SINGLE PRODUCT IN OUR DATABASE WILL BE LISTED
FULL A to Z of Featured Products
FULL Categorised Listing of Featured Products